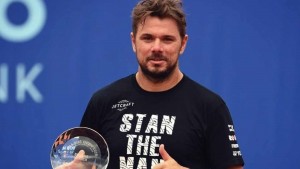 In his first tournament back since the resumption of professional tennis, Stan Wawrinka beat Aslan Karatsev 7-6(2), 6-4 to capture the title at the I.CLTK Prague Open by Moneta on Saturday. The former World No. 3 claimed his first title since 2017, when he triumphed on home soil at the ATP Tour stop in Geneva.
« I'm really happy, » said Wawrinka. « It was the best match of the week and the level was good. The focus was there, I was serving well and I'm really happy to get the trophy today. It was nice to come back here and play a Challenger at the Prague Open, especially after so many months away. »
Competing in his first ATP Challenger Tour event in more than 10 years, Wawrinka added a seventh title at that level.
« I feel good, but I know I'm not at my best yet, » Wawrinka added. « But that's the reason why I came here. I wanted to get some matches. Every match I was playing better, and this was the best of the week. I'm happy to keep going next week. »
At No. 17 in the FedEx ATP Rankings, Wawrinka is the highest-ranked player to win on the ATP Challenger Tour since 14th-ranked Ivan Ljubicic in Zagreb in 2005. He is is one of just eight players inside the Top 20 to win on the Challenger circuit since 2000.
Comments
comments